Ahh, the infamous La Croix! If you have no idea what i'm talking about you have been blessed. However if you do know the dreaded name, chances are you enjoy the calorie-free colorful sparkling beverage.
People love the stuff and i thought i was the only outcast! Turns out i'm not the only one who dreads the name La Croix. If you want to be entertained for hours turn to twitter and read the hundreds of memes and jokes about the once beloved "water."
La Croix tastes like when you walk into a room and forgot what you went in there for

— David Steinberg (@winednsteined) February 23, 2018
la croix tastes like if you carbonated the water in a vase of flowers then put it into your mouth on purpose

— Daddy Boy Trill (@http_dad) February 21, 2018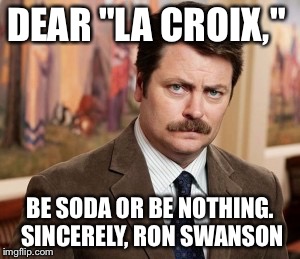 People drink it by the gallons around my office, and there are more flavors of the drink than colors that exist. Seriously the stuff tastes like your eating a scratch and sniff sticker!
The first time i tried the lime flavor i thought, "My God!, this is what sadness in a can taste like!" On a for real note, the sales are crazy up $41 million dollars.
But just because the drink was feature on "This Is Us", doesn't change the fact it tastes like soda without happiness! Tell me what you think La Croix taste like below!
-Jordan Jay